Example 1: Storytelling café on travelling
Setting & target group
In Vienna, the storytelling café called "Plauderei" ("chatting"), was organised with older people who are regular visitors of an older people's club. As the club was quite new, the participants did not know each other very well. 
Preparation
We actively involved older people in the preparing the chatting session and asked some participants to tell us their "travel story" on the telephone in advance ( see also Telephone interviews). In a joint process, their individual stories were summarised in short articles and read out loud at the "Plauderei".
Breaking the ice
To get the participants "in the mood" for the topic and to start narratives, quotes on the topic of travel and pictures were distributed around the table. Participants were invited to choose the quotes or pictures that reminded them of their travel experiences or that they found appealing.
It is quite easy to find quotes on the issue of travelling on the internet. Here are just a few examples:
Narrative phase
Based on these prompts, participants started to exchange their experiences, favourite travel destinations, travel preferences, etc. The facilitators led the conversation and asked follow-up questions to animate the group discussion. It quickly became clear that there is "the whole world" in every topic. Starting with the topic of travel, we quickly moved on to "carpe diem – making good use of the day and the time (of life)", and to dealing with foreign cultures, etc. 
Some participants did not want to read out their personal travel stories themselves (we had collected these during the telephone interviews) and we agreed to read them on their behalf which was very well received by other participants. The travel stories were very much appreciated by the other participants (applause, words of appreciation).
Closing & sustainability in the club
To signal the end of the facilitated part of the meeting, an appropriate song was played. In order to make the results of the Storytelling café visible to other club visitors, the participants created a poster with the materials and quotations from the "Plauderei". Cards with inspiring questions about travel were placed in the club to encourage further chatting (see tool Storybox).
Some examples of inspiring questions:
Which trip or holiday do I particularly like to remember and why?
How has travelling changed my view of the world?
How have my travels and trips shaped me personally?
Do I sometimes (also) travel in my head? If so, where do these trips take me?
What is worth a trip in my immediate surroundings?
What is the importance of travelling or excursions for me today?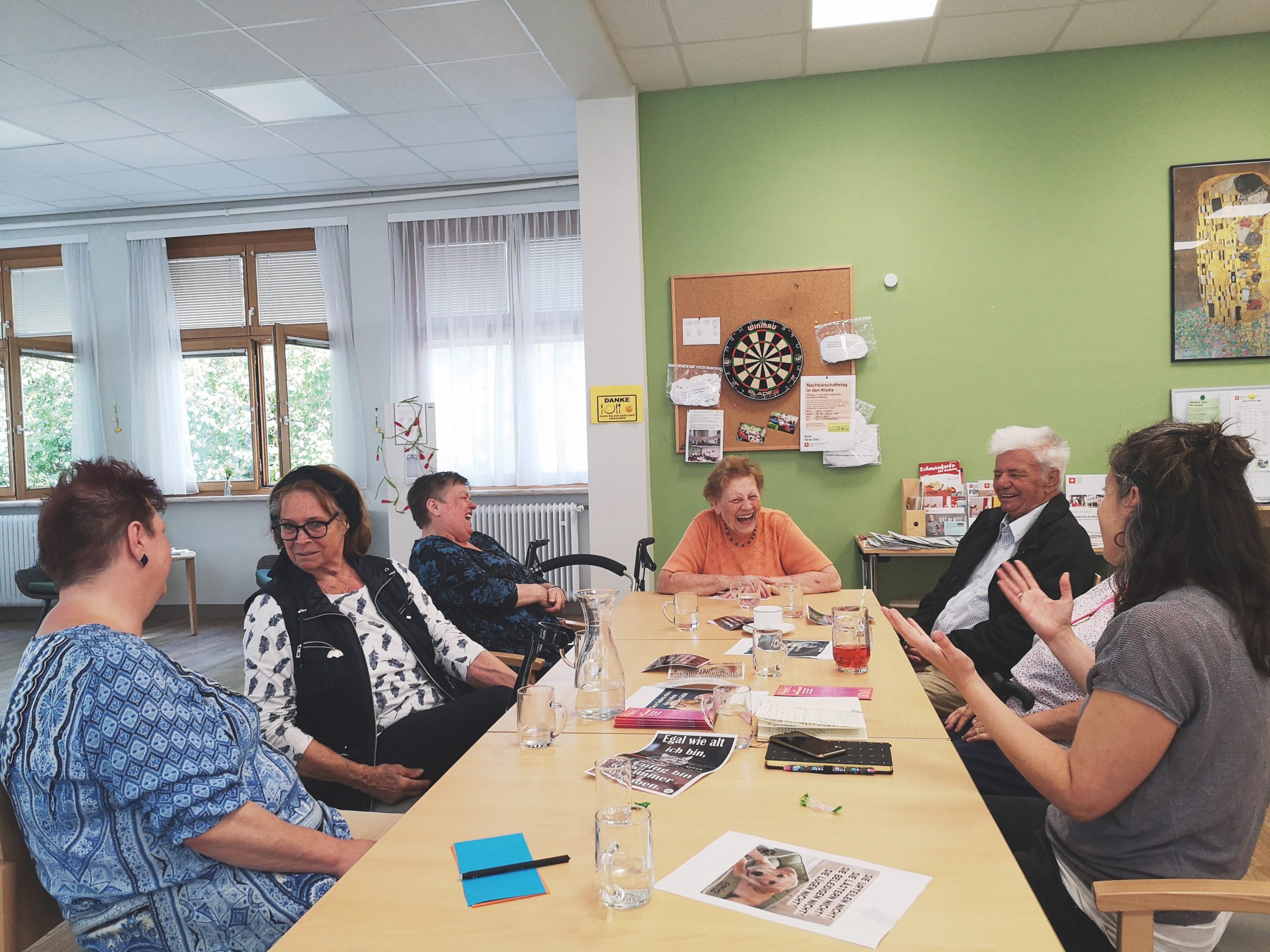 In Vienna, during regular "chats" about different topics participants revealed common and different perspectives, showed their talents and interests or got to know others better in new and surprising ways. Photo © queraum